At Interior Specialties, we have worked on plenty of iconic projects over the years. We've also worked on spaces we know will serve as community hubs. And, we've worked on projects that posed complex construction challenges.
Last year, we got to tackle all three of those elements in one project—The Winter Park Library & Events Center. This project immediately stands out to all who pass by it in Winter Park, Florida, and it was recently featured in the Associated Builders and Contractors of Central Florida's Building Central Florida Magazine.
We were honored to be part of a team that worked with world-renowned architect Sir David Adjaye of Adjaye Associates along with Orlando-based HuntonBrady Architects and Brasfield & Gorrie general contractor. The project, which opened late in 2021, provides Winter Park residents with a modern facility where they can check out books and enjoy events all year round.
For our part, Interior Specialties was tasked with installing Division 10 and Division 12 elements, including shading, bathroom accessories, lockers and fire protection systems in the library and events center.
The library and events center "village" encompasses 50,000 square feet between three pavilions. The village is made up of a new two-story library and the events center with a rooftop terrace. A portico unifies the three structures, providing a welcoming entrance for those who visit the village.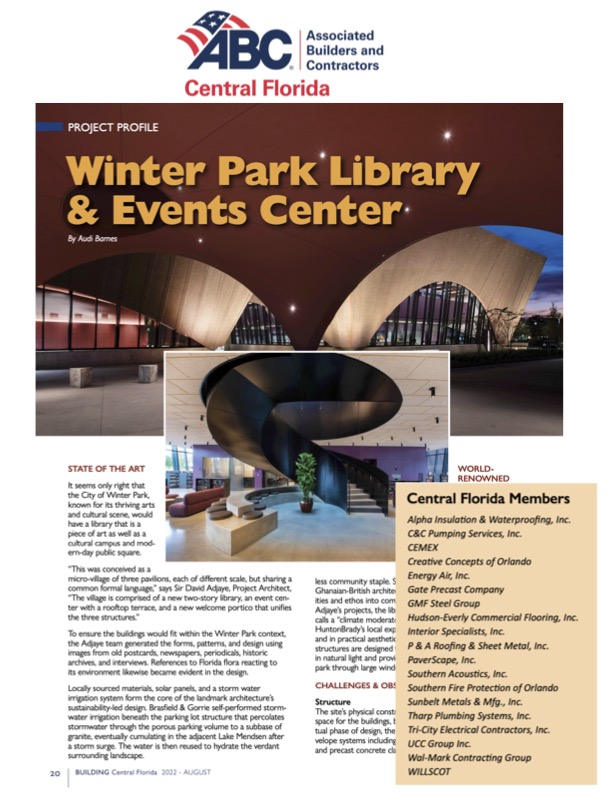 To ensure the village fit with the existing architecture in the area, the designers pulled inspiration from old postcards, newspapers, historic archives and more. The entire project has a sustainability bent, and the design reflects that with references to Florida nature. The village has many architectural features, but the most impressive might be a pair of helical staircases located in the center of each building.
For our contribution, we played into the design's environmental focus. To help reduce excess sunlight and provide proper shading, we installed Mecho Single Manual UrbanShades and Mecho Single Motorized Shades throughout the buildings to help protect library visitors and event attendees from the Florida sun. The window coverings will also help moderate heating and cooling costs throughout the year.
In the library, we installed Scranton Eclipse floor mounted overhead braced toilet compartments, fire protection, emergency aid specialties and toilet accessories. We also hung art and display systems.
Our work on the events center included the first and second floors. We installed Scranton Eclipse floor-mounted overhead braced toilet compartments, fire protection systems, emergency aid specialties and toilet accessories. We also installed Hallowell lockers and visual display boards.
At Interior Specialties, we are often one of the last specialty contractors on a job. As this project had been in the works since 2014, we were proud to be able to handle our contributions quickly and efficiently so the citizens of Winter Park could enjoy their well-deserved new community building. We were also proud to work with a world-renowned architect and our trusted local partners. We're extremely pleased with our work on the library and events center, and we look forward to seeing the building become a vibrant part of the community.