According to the U.S. Census Bureau, The Villages is America's fastest growing metro area, with a population increase of 37.8 percent from 2010 to 2018. And with so many people moving to the Sumter County city made up of 55-and-older retirement communities, there has been an increased need for services.
Interior Specialties was proud to join DPR Construction recently to help provide an essential addition to offerings in The Villages—The Center for Advanced Healthcare at Brownwood. The Center for Advanced Healthcare and Brownwood Hotel & Spa is a 31-acre, 400,000-square foot medical and hospitality facility.
The hospital side of the project is bed-less and features four stories occupied by a wide range of medical services, from first-of-their-kind hyperbaric oxygen treatment chambers to dermatology, podiatry, physical therapy and oncology. The Brownwood Hotel & Spa is connected to the facility so those receiving outpatient procedures or their family members can stay overnight without having to leave the facility.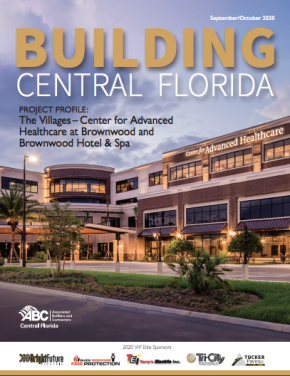 Interior Specialties' scope on this project included installing Mecho roller shades on all exterior windows in the medical facility. We also focused our work on the oncology department on level two. Patients who are receiving chemotherapy can ask the nurses toadjust the motorized shades if they want a more subdued environment. Each of the four chemo infusion stations can be controlled separately to customize the environment for each patient, making the procedure as comfortable as possible.
We were also happy to apply our deep experience in Division 12 specialty construction to the reception area of The Center for Advanced Healthcare at Brownwood. Here, we installed a radius display of motorized shades that stretches over two stories—a special touch with many hidden challenges. This is controlled by the receptionist in the area and truly adds a wow factor, plus comfort, to an area many people will see.
We always enjoy using our expertise as a specialty subcontractor in communities around Florida, and it was great to work with DPR and the other subcontractors to ensure this project was completed as smoothly as possible. We look forward to seeing this facility become a staple in The Villages, serving the growing population for many years to come.