With 100 courts and buildings situated on 64 acres, the $60 million United States Tennis Association National Campus represents a new kind of elite training facility in the world of sports.
Window Interiors was proud to join with construction companies around Florida and across the country to make the cutting-edge campus possible.
The Orlando-based company, a leader in commercial window treatments, installed manual roller shades for exterior windows in the Administration Building, Player Development Building and the Player Lodge.
The MechoSystems roller shades have three percent openness fabric in common areas and blackout fabric in the Player Lodge. The shades were selected to optimize the ambient lighting in each space and reduce solar heat gain which thereby reduces energy consumption from air conditioning systems.
The USTA National Campus, serves as a home for American tennis. It offers courts with a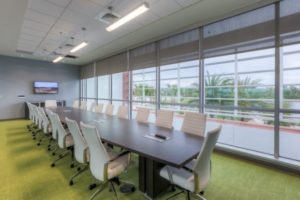 variety of playing surfaces and is suited for everyone from youth to elite international players. The facility is set to host more than 100 events this year and approximately 300 collegiate matches, as well as a variety of programs. With up to 100,000 visitors expected in 2017 alone, the opening of this high-end tennis facility is a gem for Orlando.
"Window Interiors has worked on many commercial projects in Florida over the last 27 years, and we are proud to add the USTA National Campus to that list," Window Interiors President Dave Riley said. "This is a one of a kind facility that is sure to have a big impact on Orlando, we are very pleased to be a part of it."