Altamonte Springs, Fla. - (March 27, 2013) - Window Interiors recently completed window coverings for the University of Florida Research and Academic Center in Lake Nona.
Window Interiors worked with KBR Building Group to furnish the four-story, 106,000-square-foot facility with MechoSystems' manual and motorized roller shades. The window treatments, which were installed in classrooms, labs, offices and the main auditorium, block out the sun while still allowing natural light to filter through. This creates a more comfortable and pleasing learning environment for the faculty and students.
According to Kelly Garcia, Senior Project Manager, the greatest challenge of installing window treatments at the UF Research and Academic Center was furnishing the auditorium with double roller shades. The curved west facing wall of the auditorium required special measures in order to ensure the shades were installed correctly. "We had to cut the pockets and closure to follow the curve," said Garcia. "We had the shades made as close to a straight line as possible, and we used angled brackets that could handle the curve while keeping the shades straight."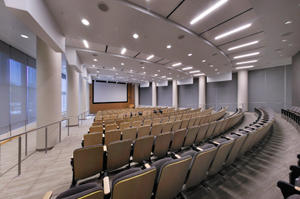 Window Interiors worked with the contracted electrician and audio-visual company to integrate all the motorized shades into the AV system, providing seamless operation of the window coverings.
Window Interiors is currently working on other educational facilities, including Valencia College's East, Osceola and West campuses. The company has also worked on a number of other local projects, including Nemours Children's Hospital, Paul Mitchell The School of Orlando, The Amway Center, The Adventist Health System, and the University of Central Florida.
About Window Interiors (www.windowinteriors.com)
Window Interiors is an industry leader, serving clients across the country with cutting-edge window coverings which lower energy bills and protect environments from solar damage. Specializing in design and installation of Energy Efficient Solar Shades integrated with Building Controls, Blinds, Shutters and Draperies, Window Interiors is a U.S. Small Business Administration (SBA) Women Owned Small Business (WOSB), certified by the Florida Office of Supplier Diversity (OSD) as a Minority/Women Business Enterprise (M/WBE) and by the U.S. Department of Transportation (DOT) as a Disadvantaged Business Enterprise (DBE). Renowned for its responsiveness, accurate, dependable, on-time delivery and installation, and reliable customer service, the U.S. General Services Administration (GSA) has awarded Contract #GS-03F-0111W to the company.