(January 17, 2013) - Window Interiors, an industry-leading window treatment solutions company, recently completed a job with Nemours Children's Hospital in Lake Nona.
Nemours Children's Hospital patient roomThe window covering specialists were responsible for the design and installation of manual shades in the Nemours Children's Clinic and hospital offices, as well as motorized solar shades in all 95 patient rooms and conference rooms of the 630,000-square-foot hospital. Each room is equipped with highly energy-efficient, LEED Gold-certified window coverings.
"The patient rooms have both solar and blackout shades to provide a variety of options for comfort. The motorized shades are controlled by a wall switch for convenience," said Kelly Garcia, Senior Project Manager at Window Interiors. "These shades are the best option for hospital rooms because they provide patients and guests with the utmost comfort during their stay."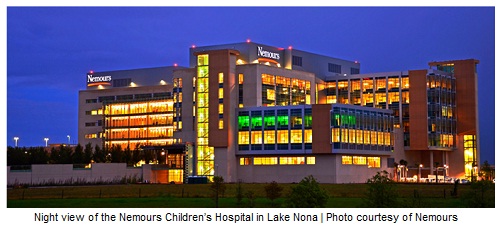 In addition, there are solar activated shades in the family waiting areas on the second through fifth floors so hospital guests will be comfortable while visiting.
Nemours Children's Hospital is an internationally recognized children's medical facility that provides access to specialized pediatric care previously unavailable to patients in the southeastern U.S. region.
Window Interiors, based in Altamonte Springs, serves clients across the country with cutting-edge window treatment solutions which lower energy bills and protect environments from solar damage. The company has worked on a number of local projects, including Florida Hospital, The Amway Center, Adventist Group and The Peabody Orlando.
For more information on Window Interiors, visit https://interiorspecialties.com/.