At Interior Specialties, we're passionate about all of our projects—but it's always fun when we can bring work and play together. That's exactly what we were able to do for the golf lovers on our team with our work on the Global Home of the PGA TOUR.
Interior Specialties was proud to join Clark Construction Group to deliver the new headquarters of the PGA TOUR in Ponte Vedra Beach, Florida. This project, finished January 2021, is both striking and functional, featuring a gorgeous open design, natural light and plenty of amenities for PGA employees to enjoy.
For our part, Interior Specialties handled shading, bathroom accessories and fire protection elements.
The new facility boasts 187,000 square feet and will bring together the PGA TOUR's Ponte Vedra-based employees, who were previously working from 17 separate facilities. The property consists of two, three-story buildings joined by a 44-foot-tall Grand Atrium. Within these buildings you'll find nearly 100 meeting spaces, cycling and yoga studios, a gym, massive conference rooms and much more.
The theme of blending the outdoors with the indoors continues from the atrium throughout the space. The building seems to sit on the water and is surrounded by landscaping that delivers a true Florida feel. In addition, the facility features five 1,400-square-foot skylights, and the exterior consists of floor-to-ceiling windows to allow sweeping views of the grounds.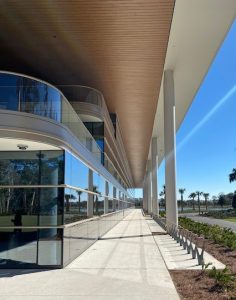 To provide much needed shade when the Florida heat becomes too much to handle, we installed both Springs Manual Roller Shades and Mecho Motorized Roller Shades to protect building visitors and residents. The motorized shades are easily controlled via remote to customize the amount of light allowed. The fact that the building is so architecturally unique required us to design and fabricate special brackets to mount the shades in order to blend seamlessly with the space.
We continued supporting the high-end look of the building through another essential: bathroom accessories. Here, we used the ASI Alpaco collection for toilet compartments that have dramatic lines, bold hardware and stunning adjustable pedestals—perfect complements to the beautiful touches added throughout the building. The bathrooms also feature Bobrick and Georgia Pacific accessories.
As always, we at Interior Specialties pride ourselves on our deep knowledge of specialty contracting and our ability to lighten the load of the project's General Contractor. We're beyond proud of our work on this project and we look forward to seeing this lively office become the hub of the PGA TOUR.