At Interior Specialties, we don't shy away from the big projects. In fact, we love a challenge! We are experts at ensuring all the small details go smoothly at the end of a project for a general contractor so new residents or businesses can move in and make it home right away.
That's exactly what our team did recently with Block F-2, a 22-story mixed-use residential building that includes residential units, public spaces and common areas.
To start, we installed 1,250 Mecho manual roller shades around the building. Not only do the shades provide privacy, they are designed to increase the building's efficiency by blocking UV light absorption—reducing cooling costs in the summer and heating costs in the winter. Our work didn't stop there. We also handled some Division 10 needs for this project, including installing toilet accessories, toilet compartments, fire protection systems and mailboxes. The toilet compartments were from the Alpaco-Elegance Collection in Designer White, giving a sleek, modern look.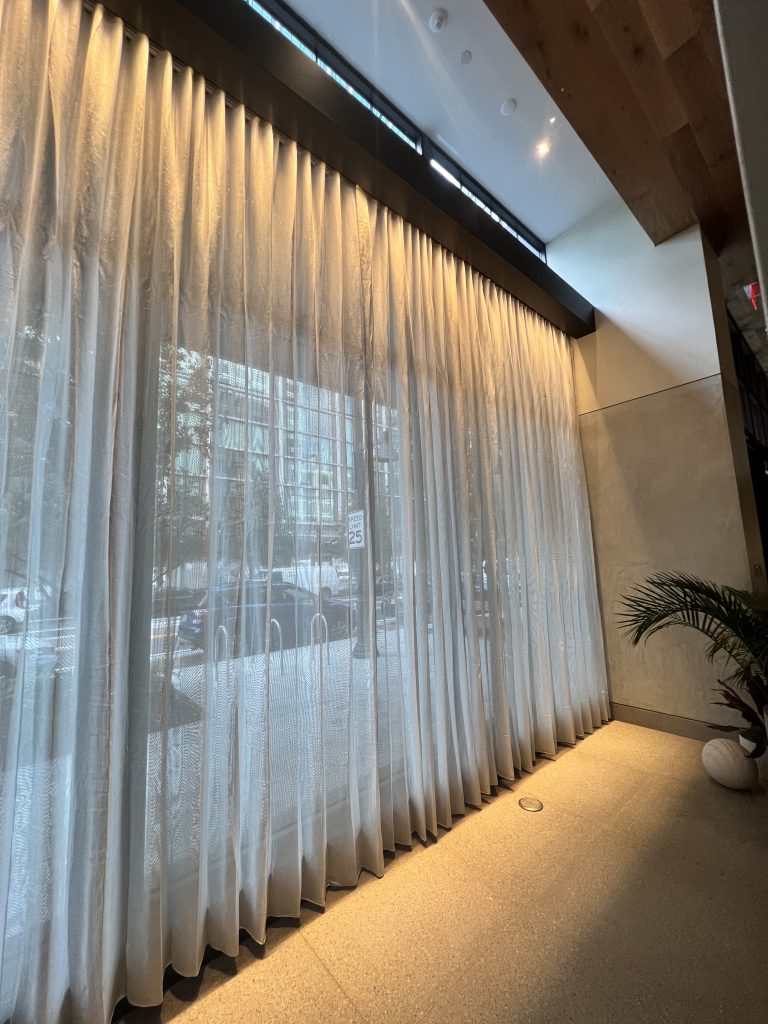 On the seventh-floor amenities area, we installed 12 motorized shades. The window shades will help keep out the sun on those hot Florida summer days. Additionally, on the seventh floor, we provided and installed 11 ripple fold draperies from Drapery Masters. The drapes offer a modern and elegant look to go along with the rest of the building.
At Interior Specialties, we are always excited to try something new, and we work hard to fit our client's vision. That's why we did something special in the second-floor lobby. Here one of our team members lent her years of industry knowledge in draperies to source a stunning sheer drapery from a new vendor. This touch made a statement.
With such a big project, nearly all our installers had a hand in Block F-2, providing us with the expertise necessary to complete the project as only Interior Specialties can! We're proud of the work our team did to deliver just the right touches, just where they were needed. We look forward to seeing this building in use soon and to tackling our next challenge in Division 10 and 12 construction